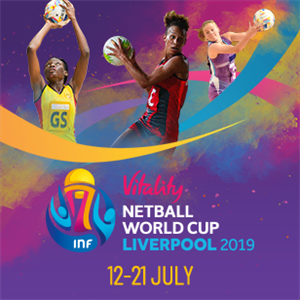 QUOTE
The 2019 Netball World Cup will be the 15th staging of the premier competition in international netball, contested every four years. The tournament will be held from 12–21 July 2019 at the M&S Bank Arena in Liverpool
Preliminaries Stage 1
Group A:
Australia
Northern Ireland
Zimbabwe
Sri Lanka
Group B:
New Zealand
Malawi
Barbados
Singapore
Group C:
Jamaica
South Africa
Trinidad and Tobago
Fiji
Group D:
England
Uganda
Scotland
Samoa
A new format will be introduced for the tournament. Teams will compete in three stages; the Preliminaries Stage One (12-14 July), Preliminaries Stage Two (15-18 July) and the Play-offs and Placings matches (19-21 July)
Preliminaries Stage One
There will be four groups (A, B, C and D) of four teams in the first stage, with the top eight teams pre-assigned to their groups and one team from the 9th-12th seeds and one from the 13th-16th seeds drawn randomly into each group. However no more than two teams from the one region can be drawn into the same group. The top three teams from each group will progress to the second preliminaries stage.[9]

Preliminaries Stage Two
The top three teams from Groups A and B will form group F, and the top three teams from groups C and D will form group G. The bottom four finishers from groups A-D will compete against one another in group E. Where teams in groups F and G have already played each other in the Preliminaries Stage One (i.e. A1 has already played A2 and A3), these results will carry through to the Preliminaries Stage Two.[9]

Play-offs and Placings
The teams finishing first and second in groups F and G will go through to the semi-finals, with the top placed team in each group facing the second placed team in the other group. The winners of each semi-final will compete for gold in the final, with the losers playing for bronze.
Odds (Coral):
Australia 11-10f
England 15-8
Jamaica 5-1
New Zealand 8-1
South Africa 20-1
Malawi 100-1
Uganda 250-1
Northern Ireland 500-1
Scotland 500-1
Barbados 1000-1
Fiji 1000-1
Samoa 1000-1
Singapore 1000-1
Sri Lanka 1000-1
Trinidad & Tobago 1000-1
Zimbabwe 1000-1
Live coverage will be on Sky Sports who will be showing every game live and on the BBC from Day 4 onwards.
Will you be watching?