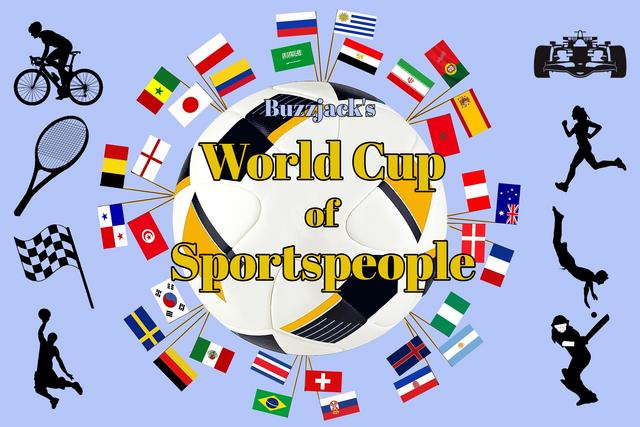 Welcome to the World Cup of Sportspeople! With the Women's Football World Cup
in full swing
just finished and the Men's World Cup being a resounding success last year, we'll be following on with a tournament, not of countries, but of the sports-men and women themselves. This contest is designed to select the greatest sportspeople from each continent through a number of rounds, selecting the best of the best, and pitting them together to show who we really think is the best sportsperson of them all!
We're finally at the Finals! This is the Group Stage, where the best of the best battle it out to be in the Final Final. The 100 qualifiers have been split into
10
groups. All 100 who made it to this stage will be in the countdown, but only half will make the Final Ranking.
- You must rank
all 10 sportspeople
, from 1st to 10th.
- Each sportsperson has been given a short description of their major achievements to make it easier for you to make up your mind. There is also a list of the names in the first post without the descriptions/flags
- The
top three
sportspeople in each group will advance directly through to the Final. The sportspeople in positions
4 to 7
will face off against each other in the Playoffs, whilst the bottom three athletes will be automatically eliminated.
Group 7
Cristiano Ronaldo
(Portugal - Football - Won Ballon d'Or 5 times, won Premier League 3 times and La Liga twice)
Don Bradman
(Australia - Cricket - Test batting average of 99.94, cited as the greatest achievement by any sportsman)
Nwankwo Kanu
(Nigeria - Football - Won Premier League, FA Cup, Champions League and Olympic Gold, alongside two African Player of the Year Awards)
Nelson Piquet
(Brazil - Motor Racing - Won three championships, 23 Grand Prix wins)
Said Aouita
(Morocco - Athletics - Won 5000m at the Summer Olympics, former world record holder of 1500m, 2000m, 3000m and 50000m)
Valerie Adams
(New Zealand - Athletics - Two Olympic golds, 8 World Championship golds)
Roy Emerson
(Australia - Tennis - Won 12 Grand Slam titles, 110 career titles)
Bradley Wiggins
(England - Cycling - Won Tour de France in 2012, won 5 Olympic golds)
Mo Farah
(England - Athletics - Won four Olympic golds and 6 European Championship golds)
Jack Nicklaus
(USA - Golf - Won 18 Major Championships, 73 PGA Tour wins)
The deadline is
23:59 Sunday 15th September
. Get voting!