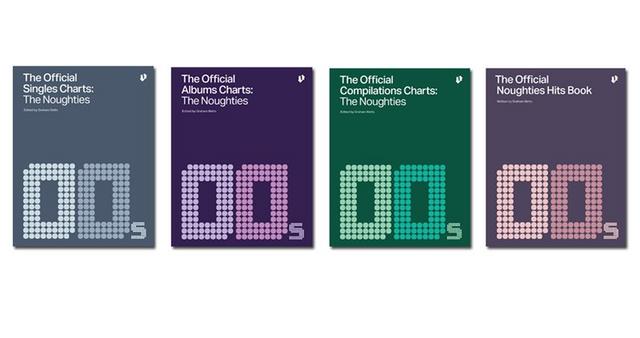 SOURCE:
OCC
QUOTE
Official Charts continues its definitive series of UK chart books, designed to chronicle the history of the Official Singles and Albums Charts – and this time we're heading for the 2000s with the release of four new Noughties books.
The four volumes are The Official Singles Charts, The Official Albums Charts, The Official Compilations Charts and The Official Noughties Hits Book. The first three volumes offer a comprehensive chronological listing of all the charts by week, in this case from January 4 2000 to December 26 2009. The Compilations book even offers full trackistings for all compilation albums that charted during the decade. The Official Hits is a companion encyclopaedia of all of the releases which reached the charts in that decade, listed by artist and full of chart facts.
The books incorporate data on the longest chart lengths which were published at the time, up to Top 75 – the longest chart lengths yet committed to book form.
The new series of books – published by the Official Charts Company as print on demand volumes, produced through the Kindle Direct Publishing platform - will provide music fans of all depths of interest the opportunity to delve into music history decade-by-decade and will represent an indispensable overview of the history of the Official Charts in the UK.
Over the coming months, further volumes will be published covering other chart decades, ultimately producing a library spanning the history of the Official UK charts, from the Fifties, right through to the present decade.
Overseeing the mammoth task of putting together this series is chart expert / archivist Graham Betts, who acts as writer and editor for the series. Betts has collated biographies, as well as data on awards, certifications and much more, all of which is presented around the UK chart information managed by the Official Charts Company.
Order your copy of The Official Charts Noughties books on Amazon:
Noughties Singles:
https://amzn.to/2LLVILX
Noughties Albums:
https://amzn.to/330BB2d
Noughties Compilations:
https://amzn.to/2M7SHVe
Noughties Hits Encylopedia:
https://amzn.to/2Qruv5m
To celebrate the release of the new book, OfficialCharts.com has revealed the biggest selling songs of the decade, based on physical copies and, once they were incorporated into the chart in 2005, downloads too.
Top of the heap is Will Young, who romped to victory in the first ever series of Pop Idol in 2002, and his double A-side (ask your mum) Anything is Possible/Evergreen was his winner's single. Selling 1.1 million in its first week alone, Will's hit has racked up 1.79 million sales and is still the biggest selling debut single of all time.
Speaking to OfficialCharts.com, Will says: "I cannot believe, and still find it hard to fathom, how many people supported me in buying Evergreen/Anything Is Possible. They are songs I still sing on tour 18 years later! It will forever humble me."
Will was just one of a slew of TV talent show contestant to land big sales in the 00s. Right behind Will is his Pop Idol rival Gareth Gates, whose cover of Unchained Melody knocked Will off Number 1 and has sold 1.34 million.
The X Factor produced many a big hitter in this decade, and those making the Top 40 are Alexandra Burke (6), Shayne Ward (9), and Leona Lewis (12 and 17). Early TV talent show victors Hear'Say, from Popstars, are 10th with Pure and Simple, and Popstars: The Rivals winners Girls Aloud are in 40th slot with Sound of the Underground, which would kick off a record-breaking series of Top 10s.
Gnarls Barkley's Crazy (13) was the first song to reach Number 1 on downloads alone, in 2006, and now has 970,000 sales to its name, and spent nine weeks at Number 1. The longest-running chart-topper in our 00s Top 40, however, goes to Rihanna's Umbrella, which spent 10 weeks at the top during the soggy summer of 2007 and has 677,600 sales.
There are eleven million-sellers originating from this decade, and the most represented years in our Noughties Top 40 are 2009 and 2002, with seven entries each. 2009 was dominated by Lady Gaga, and her first two million-selling hits, Poker Face and Just Dance, are at 16 and 22 respectively.
The Official Top 40 biggest selling songs of the Noughties
TITLE ARTIST PEAK YEAR
1 ANYTHING IS POSSIBLE/EVERGREEN WILL YOUNG 1 2002
2 UNCHAINED MELODY GARETH GATES 1 2002
3 IT WASN'T ME SHAGGY FT RIKROK 1 2000
4 (IS THIS THE WAY TO) AMARILLO TONY CHRISTIE FT PETER KAY 1 2005
5 HALLELUJAH ALEXANDRA BURKE 1 2008
6 DO THEY KNOW IT'S CHRISTMAS BAND AID 20 1 2004
7 CAN'T GET YOU OUT OF MY HEAD KYLIE MINOGUE 1 2001
8 THAT'S MY GOAL SHAYNE WARD 1 2005
9 PURE AND SIMPLE HEARSAY 1 2001
10 CAN WE FIX IT BOB THE BUILDER 1 2000
11 BLEEDING LOVE LEONA LEWIS 1 2007
12 CRAZY GNARLS BARKLEY 1 2006
13 WHOLE AGAIN ATOMIC KITTEN 1 2001
14 SEX ON FIRE KINGS OF LEON 1 2008
15 POKER FACE LADY GAGA 1 2009
16 A MOMENT LIKE THIS LEONA LEWIS 1 2006
17 I GOTTA FEELING BLACK EYED PEAS 1 2009
18 HERO ENRIQUE IGLESIAS 1 2002
19 HERO X FACTOR FINALISTS 1 2008
20 STAN EMINEM 1 2000
21 JUST DANCE LADY GAGA 1 2009
22 DILEMMA NELLY FT KELLY ROWLAND 1 2002
23 HEY BABY DJ OTZI 1 2001
24 UPTOWN GIRL WESTLIFE 1 2001
25 WHERE IS THE LOVE BLACK EYED PEAS 1 2003
26 DON'T STOP MOVIN' S CLUB 7 1 2001
27 FIGHT FOR THIS LOVE CHERYL COLE 1 2009
28 A LITTLE LESS CONVERSATION ELVIS VS JXL 1 2002
29 PURE SHORES ALL SAINTS 1 2000
30 WHO LET THE DOGS OUT BAHA MEN 2 2000
31 THE CLIMB JOE MCELDERRY 1 2009
32 RULE THE WORLD TAKE THAT 2 2007
33 USE SOMEBODY KINGS OF LEON 2 2008
34 UMBRELLA RIHANNA FT JAY-Z 1 2007
35 IN FOR THE KILL LA ROUX 2 2009
36 IT FEELS SO GOOD SONIQUE 1 2000
37 KILLING IN THE NAME RAGE AGAINST THE MACHINE 1 2009
38 WHENEVER WHEREVER SHAKIRA 2 2002
39 YOU'RE BEAUTIFUL JAMES BLUNT 1 2005
40 SOUND OF THE UNDERGROUND GIRLS ALOUD 1 2002
©2019 Official Charts Company. All rights reserved.