Hello one and all, happy Friday to you, hope you're okie dokie. Time to bring you my personal top 20 singles again for this week. Seven days ago, Dua Lipa was riding high at the top of our chart with her third chart topper 'Don't Start Now'. Is she still there today, or will new singles from George Michael and Jodie Whittaker knock her off number one? Here's your answer...
THEPENSMITH'S TOP 20 SINGLES CHART
Week ending 15th November 2019
© AM LIMITED 2019
1. (HNE) JODIE WHITTAKER - Yellow
2. (1) DUA LIPA - Don't Start Now


3. (NE) GEORGE MICHAEL - This Is How (We Want To Get You High)


4. (5) NIALL HORAN - Nice To Meet Ya
5. (3) MARK RONSON FEAT. YEBBA - Don't Leave Me Lonely
6. (2) COLDPLAY - Orphans / Arabesque
7. (4) DJ SPOONY PRESENTS GARAGE CLASSICAL FEAT. SUGABABES - Flowers
8. (NE) MCFLY - Lucky Ones
9. (NE) RAK-SU - La Bomba
10. (8) WESTLIFE - My Blood
11. (9) MCFLY - Touch the Rain
12. (7) THE WONDERLAND - Only One


13. (NE) HRVY - Million Ways


14. (6) MCFLY - Josephine
15. (10) PAIGE CAVELL - Red Is The Way
16. (11) CAMILA CABELLO - Liar
17. (12) DIPLO FEAT. JONAS BROTHERS - Lonely
18. (13) BASTILLE FEAT. ALESSIA CARA - Another Place
19. (14) ED SHEERAN FEAT. CAMILA CABELLO - South of the Border
20. (16) THE SCRIPT - The Last Time
Compiled from my own personal listening in the last seven days across streaming, digital and physical formats.
KEY
(1) - last week's position

(HNE) - highest new entry
(NE) - new entry
(RE) - re-entry
CHART COMMENTARY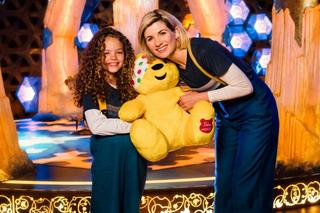 One year ago, we were a third of the way through a six week run at the top for
George Ezra
with "Hold My Girl". Fast forward twelve months, and we are saying hello to the year's 25th brand new number one, and the fourth such single in as many weeks.
Dua Lipa
drops to #2 and in her place comes Brit actress and
Doctor Who
star
Jodie Whittaker
.
Her cover of "Yellow" by
Coldplay
- who themselves were at the top of our chart just two weeks ago with their latest single - is the lead single from the new "Got It Covered" album, a collection of covers performed by the likes of
David Tennant
,
Olivia Coleman
and
Himesh Patel
(who was of course at the top of our chart for three weeks in July with his cover of
The Beatles'
"Yesterday" from the soundtrack to the film of the same name) to name but a few, all to raise money for
BBC Children in Need
, whose annual telethon is on this evening.
In reaching the top, the single notches up several impressive feats. Firstly, it's the sixth single for the charity to make number one on my chart. The others: 'Never Had A Dream Come True' and 'Have You Ever' (both for
S Club 7
, 2000 and 2001), 'I'll Stand By You' (
Girls Aloud
, 2004), 'Love You More' (
JLS
, 2010) and 'All We Needed' (
Craig David
, 2016).
Secondly, 'Yellow' not only marks the first time a Coldplay song has made it to the top under a cover version in my chart, but it's also the third instance of a song making number one this year under a cover version and thus outpeaking the original (Coldplay's made #4 in July 2000). The others of course - 'Yesterday' by Himesh Patel and 'Flowers' by
DJ Spoony
and
Sugababes
last month.
And one more fact for good measure? Jodie is now the second
Doctor Who
star, both past and present, to reach number one on my chart. The other is of course former Time Lord assistant Rose Tyler, aka
Billie Piper
, who hit the top of our chart in May 2000 in her pre-Whovian teen popstar days with 'Day & Night'.
This week's second highest new hit marks a posthumous return for
George Michael
after his sad passing on Christmas Day three years ago. Previously unheard anywhere before, 'This Is How (We Want You To Get High)' recieved its world premiere last week as the lead song from the soundtrack to a new holiday film written by and starring
Dame Emma Thompson
utilising his music, called
Last Christmas
. Entering at #3, it is his highest charting solo single to date, outpeaking his previous best of #4 for 'Amazing' in March 2004.
Wham's
'Last Christmas' posthumously peaked at #2 over the festive season in 2016.
Niall Horan
notches up a sixth consecutive week inside the top 5 this week with his former number one 'Nice To Meet Ya'. Having had a chart run of 1-1-2-3-5, the single now rebounds a place to #4, following his UK promo duties on last Friday's
Graham Norton Show
, a performance on
BBC Radio 1's Live Lounge
last Thursday and the release of a remixed version of the track from none other than
Diplo
.
He also overtakes
McFly
as the act with the longest runner in the top 10. The lads' penultimate new 'Lost Song' enters at #8 this week, 'Lucky Ones' being their only song inside the upper echelon as former chart topper 'Touch The Rain' dips out the top 10 after an eight week run to #11, and last week's new arrival 'Josephine' drops eight to #14. Next week sees the arrival of their last new song as their O2 comeback show beckons, and my prediction of an all-McFly top 10 two months ago look slimmer by the minute.
Now spare a thought for
Rak-Su
, for since we last met them in the summer, they've been on shaky ground. Sixth single 'Rotate (Clockwise)' made #2 in July, but several changes of personnel on their project (including the SyCo/management debacle) after their
X Factor
win saw to it that the inevitable finally happened and they were dropped by RCA.
Now self releasing their own material, and fresh off the back of a UK tour, new single 'La Bomba' enters at this week's #9, which is small compared to their more usual instant top 3 appearances (but better than their #19 bomb 'The Real Thing (Holidays Are Coming)' last December), before you remember who's pulling the strings now label wise and the amount of competition there is about this week, meaning this is less of a sensation than might otherwise have been the case.
And salvation may be coming in another way for them shortly, as
Myles Stephenson
from the band is as we speak currently out in the Australian jungle to feature on this year's series of
I'm A Celebrity...Get Me Out Of Here
which starts on ITV this Sunday. It may just prove to be the booster they need career wise, so watch this space.
Lastly this week,
HRVY's
quest to be Britain's new teen heartthrob continues apace, as his new single 'Million Ways' debuts at #13. It's his second top 20 hit, but is eight places short of the #5 debut he achieved as guest vocalist on 'Younger' for
Jonas Blue
back in September.
FLASHBACK TOP 10
Your chance to see how my personal top 10 was looking on this week in the last 20 years. This week in 2011: JLS notch up their eighth consecutive number one with 'Take A Chance On Me'. Plus classic hits from Bruno Mars, Rihanna and Labrinth feat. Tinie Tempah
1. (HNE) JLS - Take A Chance On Me
2. (1) BRUNO MARS - It Will Rain
3. (2) RIHANNA FEAT. CALVIN HARRIS - We Found Love
4. (3) LABRINTH FEAT. TINIE TEMPAH - Earthquake
5. (5) PROFESSOR GREEN FEAT. EMELI SANDÉ - Read All About It
6. (NE) FLORENCE & THE MACHINE - Shake It Out
7. (4) CHER LLOYD FEAT. MIKE POSNER - With Ur Love
8. (NE) PIXIE LOTT FEAT. PUSHA T - What Do You Take Me For?
9. (6) DAVID GUETTA FEAT. USHER - Without You
10. (NE) LOICK ESSIEN - Me Without You