Happy Friday everyone - thank you for joining us as we count down my personal top 20 singles again for this week. Now United scored their third number one of 2019 last week with 'Legends'. But have they held on at the top for a second week in the face of some stiff competition? Let's find out...
THEPENSMITH'S TOP 20 SINGLES CHART
Week ending 29th November 2019
© AM LIMITED 2019
1. (2) DUA LIPA - Don't Start Now
2. (HNE) LITTLE MIX - One I've Been Missing


3. (1) NOW UNITED - Legends
4. (3) JODIE WHITTAKER - Yellow


5. (NE) ROBBIE WILLIAMS - Time For Change


6. (4) BASTILLE - Can't Fight This Feeling
7. (5) EMMA BUNTON - Coming Home For Christmas
8. (9) NIALL HORAN - Nice To Meet Ya


9. (NE) MABEL - Loneliest Time Of Year


10. (10) MARK RONSON FEAT. YEBBA - Don't Leave Me Lonely
11. (8) GEORGE MICHAEL - This Is How (We Want To Get You High)


12. (NE) FLEUR EAST - Size


13. (16) WESTLIFE - My Blood


14. (NE) LUKE EVANS - Changing


15. (12) COLDPLAY - Orphans / Arabesque
16. (13) DJ SPOONY PRESENTS GARAGE CLASSICAL FEAT. SUGABABES - Flowers
17. (14) MCFLY - Touch The Rain
18. (6) MCFLY - Man on Fire
19. (7) MCFLY - Pretty Girls
20. (11) THE VERONICAS - Ugly
Compiled from my own personal listening in the last seven days across streaming, digital and physical formats.
KEY
(1) - last week's position

(HNE) - highest new entry
(NE) - new entry
(RE) - re-entry
CHART COMMENTARY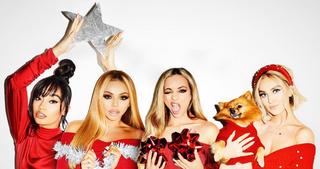 Right. We sort of addressed it last week, but there's only two days left of November now, which thus gives me the right to announce that it is Personal Christmas Chart 2019 T-3. Three weeks from today, we will know what song becomes the last Christmas number one on my chart this decade. A handful more of this year's contenders have arrived on my chart this week - more on which in a second - and we have some which are still waiting at the gates to be released. Including one by - and I'm not making this up - a cartoon pig. More on which next week.
Back to this week though, and it's a surprise in more ways than one. The number one record is, for the first time in quite a long while, not the week's highest new entry or indeed a long stayer. Instead it's the return of a record that had already topped our chart earlier this month. After waiting patiently at #2 for the last fortnight, renewed exposure for 'Don't Start Now' has seen to it that
Dua Lipa's
disco stomper has returned her to number one for a second week on aggregate, and on its fourth week in the chart.
There's no real surprise about this to be honest. The more you hear it, the more it grows on you and you realise what a brilliant pop record it is. The fact it's now one of my top 10 singles of 2019 after just a month on sale and for streaming tells its own story. It thus also means that Dua is the first artist since
George Ezra
in the summer last year with 'Shotgun' to return to the top having previously been number one.
Her resurgence also means that
Little Mix
are denied their second chart topper of the year. The follow up to 'Bounce Back', which hit the top in June, 'One I've Been Missing' is this week's highest new entry at #2, and is the first ever Christmas song that the girls have recorded, and much like the
Emma Bunton
offering last week is a poptastic seasonal delight. I wouldn't rule out this one climbing as we approach the festive season either. If they do manage it, it'll be their first time at the top over Christmas since their
X Factor
coronation single 'Cannonball' was at the top for Christmas 2011.
Our other two new top 10 entries this week are also Christmas songs.
Robbie Williams
is new at #5 with 'Time for Change', one of a handful of original songs on his new seasonal album 'The Christmas Present' which came out last week and just missed out on top spot in the UK album chart to
Coldplay's
new album 'Everyday Life'. It now becomes his 29th top 10 hit - putting him ahead of both
Olly Murs
and
Craig David
as the male solo artist with the most top 10 hits in my chart history. The odds of this being his second Christmas number one to follow 2001's "Somethin' Stupid" with
Nicole Kidman
are pretty slim, however.
The odds are even slimmer for
Mabel
, who despite scoring her third top 10 hit of the year this week with her new festive song 'Loneliest Time of Year', is unable to match the #2 posting of March's 'Don't Call Me Up' or the chart topping success of June's 'Mad Love', entering at #9.
Dropping out to the top 20 now, and we find
Fleur East
back with her third top 20 hit of the year, almost twelve months on from her stint in the
I'm A Celebrity
jungle. 'Size' is her second single in a row to soundtrack a Debenhams ad campaign, this time for their Christmas adverts, and debuts at this week's #12.
We come to our last new entry at #14. Now, Hollywood actors crossing over to music is all too rare an occurrence these days. Not so
Luke Evans
, the Welsh superstar actor of stage and screen who has starred in
The Clash of the Titans
and
The Hobbit
and more recently Disney's remake of
Beauty and the Beast
amongst other things on his glittering CV. He's now released his debut album, 'At Last', and this lead single 'Changing' is a stirring cover of a song originally recorded by little known singer-songwriter
Conrad Sewell
. That it hasn't charted higher is a surprise, but definitely don't judge this one on name alone. He more than has the vocal chops to pull it off.
FLASHBACK TOP 10
Your chance to see how my personal top 10 was looking on this week in the last 20 years. This week in 1999: Melanie C has her first solo number one, plus classic hits from Wamdue Project, Boyzone and Robbie Williams
1. (HNE) MELANIE C - Northern Star
2. (1) WAMDUE PROJECT - King of My Castle
3. (NE) BOYZONE - Every Day I Love You
4. (2) ROBBIE WILLIAMS - She's The One / It's Only Us
5. (NE) MARTINE MCCUTCHEON - Talking In Your Sleep / Love Me
6. (NE) ALICE DEEJAY - Back In My Life
7. (NE) LOLLY - Big Boys Don't Cry / Rockin' Robin
8. (3) WILL SMITH - Will 2K
9. (4) GERI HALLIWELL - Lift Me Up
10. (5) FIVE - Keep On Movin'